Bob Geldof's 2012 Canada dates were announced months before tickets were actually on sale. It was a weird assortment of places he was playing at: Hamilton, Ste Catharines, Belleville, Oshawa… I was trying to figure out which would be easiest for me to get to, given that I'm not so crazy about driving myself on 400 series highways. I was quizzing Jean which of the routes might be easiest for me, when he asked:
"Is there any particular reason you're not inviting me to go with you?"
(So you all got that, right? He offered to go!) I asked which city he'd prefer to target. He decided that Ottawa sounded like the most fun. It was a Monday night, but we figured we could get some time off work for it.
And that, children, if how we came to build our little Fall getaway around a Bob Geldof concert.
As for tickets, I did brilliantly there, managing to pop up the two seats right in the front row, dead centre! I don't think I've ever had those particularly coveted seats before, at a rock concert. (I did once at the symphony, but that's actually not as desirable.)
Wherein Bob Geldof encounters a Great Pumpkin
We left in plenty of time for the show, which was good, because construction made the route less than straightforward, and delayed us a good 15 minutes. He was playing out at the Centrepointe Theatre, in Nepean, in a building that houses a library and community centre, along with the theatre.
The show started promptly at 8:00, with his usual openers, "The Great Song of Indifference" (warm-up version), and A Sex Thing, a catchy little ditty about getting it whichever way you can. He spoke then, briefly, with a welcome and promise to play songs from 10 years ago, 20 years ago, 40 years ago. Then introduced one from "six months ago", the macho, hard-rocking "Systematic 6-Pack" (about the weirdness of aging).
Then we got a proper Geldofian welcome.
"So, where the fuck are we? Am I right that this place is like, in the middle of nowhere? I feel like I'm at fucking little house on the prairie! I thought, you know, we're playing Ottawa, big city, could go see a picture. They must have one of those super duplexes, or whatever the fuck you call them. So I asked and they said, 'Yeah, but it's a half hour drive!' What the fuck? I had to take a covered wagon there!
"Anyway. So I saw the picture, good flick, and then I decided to go the National Art Gallery of Canada. But it's closed. It's fucking closed on Mondays!
"So then I go into the Market, and people ask me how that was, and I said, fine, you know, but all I can really remember is this fucking 900-pound pumpkin. And that when they served me miso soup, it had some of that pumpkin in it."
Bob's great pumpkin (we had seen it too! It was a fucking big pumpkin) was destined to make a cameo in his next number, Dazzled by You, a love song from his latest album (also featured on an episode of House). He added an extra coda about Ottawa's little prairie, the giant pumpkin, and the miso soup.
That was followed by a rousing version of "When the Night Comes", from 1979's Fine Art of Surfacing, about the dreariness of work:
"The offices are emptying their pale-faced wards into the street
Flickering their street light eyes, shivering they readjust their lives from the air-conditioned heat
The humdrum and mundane
It's nearly driving them insane
But you get hooked so quick to anything, even your chains
You're crouching in your corner til they open up your cage
When the night comes… It will help you disappear
When the night comes… Forget about the day that brought you here"
Canada vs. Ireland
Having insulted the city and sung about how boring our lives were, Bob introduced his six-piece band. [I'll interject here with the comment that having six highly skilled musicians—a drummer, another percussionist, a keyboardist, bassist, violinist / flutist / other, guitarist, and Bob also playing guitar on most songs—made for a full and varied soundscape, able to really effectively perform the variety of songs Bob has come up with over 40 years.]
He made a point of saying where everyone was from—one was from Zimbabwe, three were Paddies, (one I forget from where), and pianist Alan Dunn was from Sheffield, which is apparently the worst possible place you could be from. [You probably have to be British to really get that joke.] Even worse than Bob's own shithole of a home town (his words), Dungolaire (sp.?), which at least is pretty. [Again, I don't know; never been to any of these places.]
He then asked for confirmation that the Boomtown Rats had played here before, to which the crowd responded in the affirmative. I had interpreted that to mean this actual theatre, but Jean thought that was probably Ottawa proper. Anyway, Bob said, "Yeah, I thought so. I've been here tons of times to meet Prime Ministers and shit, and you forget all that pretty quickly, but I tend to remember the music stuff."
He then said how he really enjoyed visiting Canada. "Hamilton, Ste Catharines… Those were great. But Oshawa? Have you been there? Pssh… It's the Sheffield of Ontario."
Then he reminisced about he used to live in Vancouver, and that Canada was a really important place to him as a young man. Here he was encouraged and even paid for being himself and speaking out, where Ireland at that time was all about repression. He recalled seeing a "pimply-faced young man" perform as one of his first gigs as a music writer for the Georgia Strait, and apologized for "siccing Bryan Adams on the world."
Then he talked about how he had hoped to immigrate to Canada, but to do that properly (once the Mounties found him), he had to return to Ireland. Whereupon he joined a band, and his life took a different turn. "Also", he said, "music was terrible at time. I remember my last review for the Strait, of the Stylistics, I just wrote: 'This is shit.' They dared me to do better, so I joined a band, and I did."
Now, you'd think that would be a segue way to a Boomtown Rats song, but I think he actually did "Walking Back to Happiness" here. (Though I didn't take notes, so this is all from memory, which is no doubt faulty in parts…)
Then, having mostly praised Canada, he talked about what Ireland was like when he was a teenager. Businesses knowingly exploited people, governments knew that was going on, but did nothing to protect the people. The Church should have spoke out against this, but did not; too busy sexually assaulting the children of the parishioners. And they had the troubles, "as if countrymen killing each other by the thousands was merely troubling, rather than an atrocity, rather than murder, which is what it really was." That generation had failed.
He wrote a song about this, which, to his surprise, became a hit. It was successful in Germany, "because they thought it was about them," and it was successful in the UK, "because they thought it was a nice pop tune you could dance to," but in Ireland, "it was banned. Because they knew it was about them. Can you believe that? Banned in my own country. Like, can you imagine Neil Young being banned here for some song he wrote?"
Of course, the ban just got the song more attention and made it a bigger hit. And [he never claimed credit for this] it became part of movement of his generation, that changed Ireland. The church lost influence, the government changed hands, society opened up. "Our generation changed things. But we forgot that every generation fails. And Ireland was once again ruined by businessmen who played with people's savings, people's lives, and governments who knew they were, but did nothing to stop them."
And then they played the song in question, a great rendition of "Banana Republic", from Mondo Bongo.
Riding along under African skies
"When Vince was in Hamilton he ate at a Chinese restaurant called Harvest Moon. This song's not about that. It's not the Neil Young song, either. It's mine; I just couldn't think of a better title."
"Harvest Moon", only recently released on a limited editions CD, is a nice tune that, indeed, isn't about Oriental dining. Bob explained that he wrote around the time of the Sex, Age, and Death album, but didn't include it there, because it didn't fit in: That was a dark album, and this was a cute tune.
He then talked about the genesis of a song that was included on that album: "Scream in Vain".
"That was a bad time for me. My wife left me, and I loved her. So I was left despondent, not really functioning. Friends would come over and sit with me. I don't know what birds do… They probably talk or something. But guys just sit there, shake their heads and say, 'Yep'.
"A friend of mine, a BBC producer, wanted to do a special called Live Aid: Ten Years After. And he wanted me to go to Africa to film an update for that. And I said no. I love going to Africa, but I didn't feel up to it.
"But he convinced me that it was time to stop wallowing, so finally I did fly to Africa. The area had one big road, now a proper highway, then a wide dirt road, called Scream in Vain. And that was because it was very dangerous; you could be attacked there, and scream, and no one would help you.
"I was expecting to see the dry dust bowls that were there in 1985. But thanks to the Band Aid money—and Canada was a big contributor, so thank you for that—they had experimented with what sort of crops could work in those areas. And one that really worked well was yams.
"So I encountered all these fields of green. The people shared their food; they were very proud of what they'd built, as they should have been; you and I couldn't have grown anything there.
"And that gave me… just a glimmer of hope.
"And eventually it became a song, the contrast between my soul, screaming in vain, and the light starting to pierce through. 'Sweet yams in the fields of Harbo made me feel better.'"
Naturally, the band then played a completely awesome, very powerful, rendition of Scream in Vain.
The crowd responded very enthusiastically to that [they were generally an appreciative, enthusiastic crowd], but barely had that one ended that they segued into another song from that album, the angry (yet tuneful) "One for Me".
Knowing that he often follows up that song with possibly my favorite song of his, "Mudslide", I asked Jean to prep to video the next song. [Jean's plan had been to do just take still shots.] But we did record this one:
At the end of the video, are the opening notes to his most famous song: "I Don't Like Mondays", the point at which he discarded the jacket.
Did he follow that up with "How I Roll", from the latest LP? I'm not sure, though it would seem odd that he not do that one.
Sex, boom, bang: The closer
What I am more confident of is that with an intro of "1976!" he played a song from the first Boomtown Rats LP, that I'd never heard him do live before, an early epic called: "Joey's on the Street Again". This was followed by a most astounding version of an early song that has been in his concert rotation for a while: "Mary of the 4th Form."
This seems a good time to point out that Bob is really mesmerizing performer. I realize he basically looks like a mad professor now, but nevertheless, he still has a completely charismatic presence. He really seems to lose himself in each song, performing each with incredible passion that takes you along with him. Physically, he never seems tired. His voice has lost nothing of its range and power.
"Mary" is a song about teenage lust. Live, it has evolved an astounding extended version during which, at one point he interjected other lyrics (partly from the old Beatles / Stones "I Wanna Be Your Lover" song, I think, but the rest…?), like "I wanna be your lover, babe. I want it…" He sort of turned to the side while singing that part, and more or less transformed himself into Mick Jagger. Complete with sex appeal. I swear. Duh!
That was followed up with The Boomtown Rats other number 1 hit, "Rat Trap", amidst a series of "goood night"s!
Of course, the crowd were on their feet the second that was done, wildly applauding and demanding more.
And most everyone stayed standing for the band's return, which—because we looked "like a good disco crowd", started off with the poppy "Silly Pretty Thing" from the latest record. Which actually is a bit disco. That was followed by "Diamond Smiles" from the Fine Art of Surfacing , and then we got the bookend of "The Great Song of Indifference"—lively version!
It's just impossible not to clap, sing, and dance along with this finale. At one point the whole band were right in front of us (and being in the front row, standing, I do mean right in front of us), pointing first to the left, then to the right, as we all did the "nah nah nah" chant.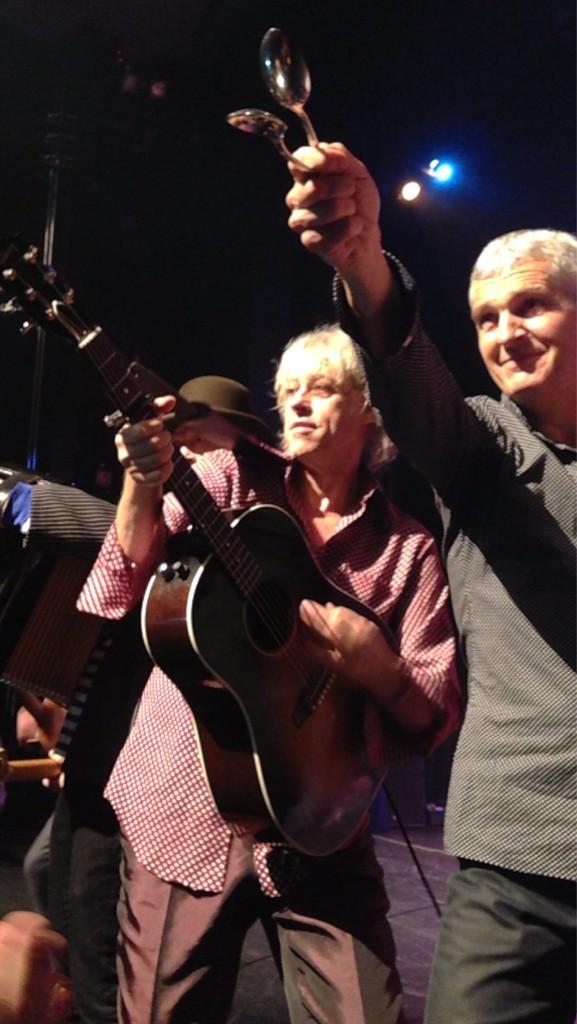 Once done, I turned to Jean, who had a big grin. "Not bad, eh?" I said. "Yeah." Jean replied, "He's really, really good! [Pause] I'm surprised by that every time, aren't I?"
The coda
I'm not one to generally make much effort to meet famous people. (And as a result, I have not!) I always get caught up with the fear that I won't be able to think of anything sensible to say.
Nevertheless, I wanted to meet Bob. When I first saw him in concert in Toronto, Jean just did not want to stick around after, but I later heard that those who did got to meet him. When we saw him again in Quebec City, it was at an outdoor festival, and there was no clear place you could even wait around for the artists. So we just went out to a bar with some of the other fans. Around midnight or so, we left to go back to our hotel. Not long after that, Bob showed up at that bar.
I just didn't want to miss him again.
We first headed out to wait by the stage door, where a few other people were. Eventually a roadie came out. We asked him about Bob's whereabouts, and he said that Bob was actually out by the stage talking to fans there.
So we trundled back in to see that the man was in fact shaking hands and signing CDs for a whole line-up of fans. Naturally I joined in, while Jean settled in a good spot for photos.
Our brief conversation consisted of me first thanking him for coming back to play in Canada. Then mentioning that I had just missed meeting him during his last tour, which was back in 2002. "Has it been 10 years?" he said. "Fuck!" Then we had photo and autograph, and before I took off, I told him the show had been absolutely amazing. Once again.
I was smiling for quite a while after that.
More photos at this SmugMug Gallery.
Shorter post on this same topic, but with a different approach.
Report about an earlier Bob Geldof concert: Me and Bob